Pietro's Gold Coast Pizza, A NorthWestern Tradition since 1957
Tradition continues at Pietro's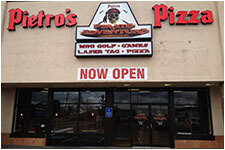 Pietro's Gold Coast Pizza has survived since 1957 and is still going strong in Oregon and Washington.
The tradition of pizza in a family and fun oriented vibe continues in the last four remaining restaurants.
At on time, eighty locations dotted the north and mid-western United States. Not related to a chain in the north-east bearing the same surname. Pietro's Pizza's customers will all swear that slice is better than any other pizza. Lots of cheese and sauce covering a thin, crispy cracker type of crust that was bubbly and crispy, thanks to the corn meal which covered the bottom of the pie crust. Declared by many to be the best in the west, with nothing like it available in the east. If the last four restaurants ever close, it would be too sad a day. No chance, however! In 2004, two passionate employees made sure the tradition would last. When the last remaining locations were headed to the end, the employees traded their aprons for business suits. Purchasing all of Pietro's assets, they are continuing this western American tradition.     
https://vintageleftovers.com/vintage-hat-pietros-gold-coast-pizza-parlor-restaurant-crew-cap-red/